Owning a Vhearts account, you can easily use the many unique features that this social network offers. Not only that, you can also use other special programs and projects for internal members only
'Your Eyes Tell' also known as 'Kimi No Me Ga Toikakete Iru' recently premiered in Japan and South Korea cinemas on October 23rd. The Japanese remake of a 2011 South Korean movie 'Always' follows a heart-wrenching story of a once-promising kickboxer and a blind girl who lost her eyesight and family due to an accident. 
As widely known, Jungkook composed and wrote the movie's original soundtrack (OST) with the same title 'Your Eyes Tell'. He previously mentioned that he actually made the melody originally for his mixtape, but since it came out exceptionally good it was added to BTS Japanese album 'Map Of The Soul: 7 – The Journey' instead. It was previously reported that the movie director fell in love with Jungkook's demo which was actually sent last minute. Jungkook, who is also the main producer for the hit song 'Magic Shop', now officially becomes the first foreign artist to compose an OST for a Japanese movie. Jungkook received a lot of praises from medias and fans worldwide, and was regarded as a genius composer in Japanese TV shows and BTS interviews.
When 'Your Eyes Tell' was first released in July this year it quickly became a huge hit and dominated international and Japanese charts. It charted at #1 on iTunes Japan surpassing the most popular Japanese singer and chart digimon Kenshi Yonezu's new song. The OST charted at #1 on popular Japanese charts ie. LINE Music Daily and Real-time, Mora Daily and Real-time, also Recochoku Daily, which is harder for K-pop acts to infiltrate. It also debuted at #1 on Oricon Daily chart with 13,089 sales, became BTS' highest debut sales on this chart. 'Your Eyes Tell' also became the biggest streaming debut on Oricon for a Korean act in history with 5.1million streams before 'Dynamite' took over the throne. The OST debuted at #8 on Billboard Hot100 Japan also hit #1 on Billboard World Digital Song Sales. It is also the fastest song by an Asian act to reach 100 #1's on iTunes and the first BTS song to top all 8 biggest music markets of iTunes chart.
Now that the movie hit the cinemas, the tear-jerker OST gained even wider public reach and this reflected in the song climbing up the charts again. Following the movie premiere in cinemas, 'Your Eyes Tell' charted at #13 on LINE Music Top 100 Songs Japan (10.25), #17 on Recochoku (10.25) and #4 on LINE Music K-pop Top50 (10.24). The OST charted at #3 on Amazon's Best Sellers list and re-entered Worldwide iTunes chart at #196, also climbed up 13 spots on iTunes Japan to land on #24 (10.24) and continued to move up to chart at #20 (10.25). 'Your Eyes Tell' has been steadily charting on Billboard Japan Hot100 for several weeks since its release and this week it is charting at #63. 
Due to the song's popularity in Japan, Joysound Japan had release a collaboration campaign with 'Your Eyes Tell' movie in which the OST composed by Jungkook will be distributed on a limited time as a karaoke song with the background of scenes from the movie.
At the movie GV event held in Japan, the movie main lead Ryusei Yokohama offered to teach Jungkook boxing, as Jungkook praised the actor's boxing action in the movie and asked him to teach him someday. Upon watching Jungkook's request which was played in BTS video message, the actor responded that he will teach Jungkook anytime and Director Takahiro Miki had propose a sparring session between the two stars. 
Jungkook's popularity in Japan seems to soar even higher than before and it is proven with his all-time smash hit 'Euphoria' re-entering iTunes Japan and charting simultaneously on the iTunes, Apple Music and Spotify charts in Japan (10.24).
Jungkook truly has a talent in music production, composing and song-writing. Being the main producer of hit songs like 'Magic Shop' and 'Love Is Not Over', he proved himself to be capable of producing distinctive and sophisticated melodies. Jungkook's creative composition in 'Your Eyes Tell' speaks volume of his talent and hardwork, and as J-hope said, "I think Jungkook is a genius".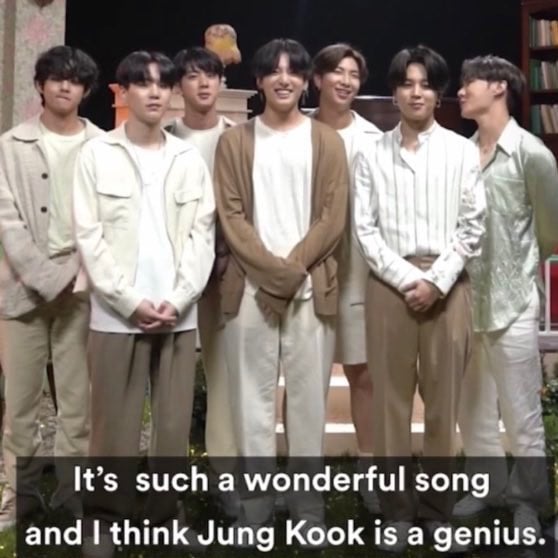 You may have heard somebody state "Vhearts", so what is Vhearts? Vhearts is a neighborly informal organization for all Vietnamese. Vhearts is abridged from: Viet hearts (Vietnamese individuals' heart, love of Vietnamese earth ....), like Facebook, Vhearts acquires all the elites of seniors, other than there are a lot more extraordinary highlights, appropriate for Vietnamese fine traditions and customs..