Singer Kim Jaejoong's popularity has brushed off the worsened relationship between Korea and Japan. Kim Jaejoong, who went from his JYJ group to solo activities, started his full-length activities in Japan, and is now at his 2nd peak in popularity. The result from good strategy and good business abilities.
Kim Jaejoong signaled the start of his solo career when he opened a private fan club in Japan in 2017. Since then, he has started his solo career in Japan releasing his first solo single, regular albums, and a 8 cities arena tour.
His first solo album "Flawless Love," topped Oricon Weekly Album ranking, Tower Records store General Album Weekly Chart, ranked No. 1 in Billboard Japan and was No. 1 in iTunes Charts in 32 Countries. His arena tour was also broadcast live exclusively on the Japanese satellite channel "BS Skyper!".
Good strategy. Imai Kengo, a Japanese record official analyzed: "Jaejoong has covered old Japanese songs at concert stages and music broadcasts. The songs he covered were mainly hit songs by Japanese singers in the 80's and 90's, songs like 'Saigo No Ame' by Yasushi Nakanishi and 'boku no soba ni' by Hideaki Tokunaga, gaining the earnest middle-age fans attention".
Kim Jaejoong will also release a cover album 'Love Cover' on September 18 (recently changed to September 25). The album includes J-pop hits like 'Miraiyosozu II' by DREAMS COME TRUE, 'First Love' by Hikaru Utada, 'I love you' by Mika Nakashima and more. Steady Kim Jaejoong's cover activities are creating synergy effect between existing JYJ fans and his new fans to secure a wide fan base. But more than a strategy, his abilities have always been his best support, Kim Jaejoong showed not only singing ability and outstanding appearance but also fluent Japanese ability and sense of language, which was famous since his TVXQ era, showing his true value through various variety entertainment programs even beyond music broadcasting.
When Kim Jaejoong appeared on Japan's representative music program TV Asahi 'Music Station' on the 13th of this month, more than 200,000 tweets with his Japanese name 'ジェジュン (재중-Jaejoong)' appeared on Twitter. As an example of his popularity and ability to become hot topic, by looking at his activities, it is no exaggeration to say that he has reached his peak for the 2nd time in Japan.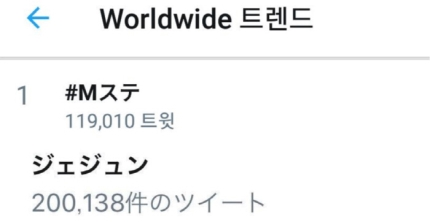 His popularity is also thanks to his diligence in 'Star Marketing'. Kave, the Cafe he opened in Japan last year has become a big hit among Japanese fans, and it's now followed by a branch in Ikebukuro opened in May, and another store in Shin Okubo.
On the 14th, Kim Jaejoong entered Incheon International Airport after finishing his schedule in Japan.
Credits: https://twitter.com/Jaefans_Gl…