Recently a Twitter thread about Urbanworks's treatment toward their artists (specifically Filipino-American Idol Kriesha Chu & IZ*ONE member Kim Minju has gained attention and raised concern in fans.
The thread is titled "A needed thread about why we should be worried about Kriesha Chu & Izone Kim Minju and their company Urbanworks" and lists some of the major problems fans noticed with the company over the years.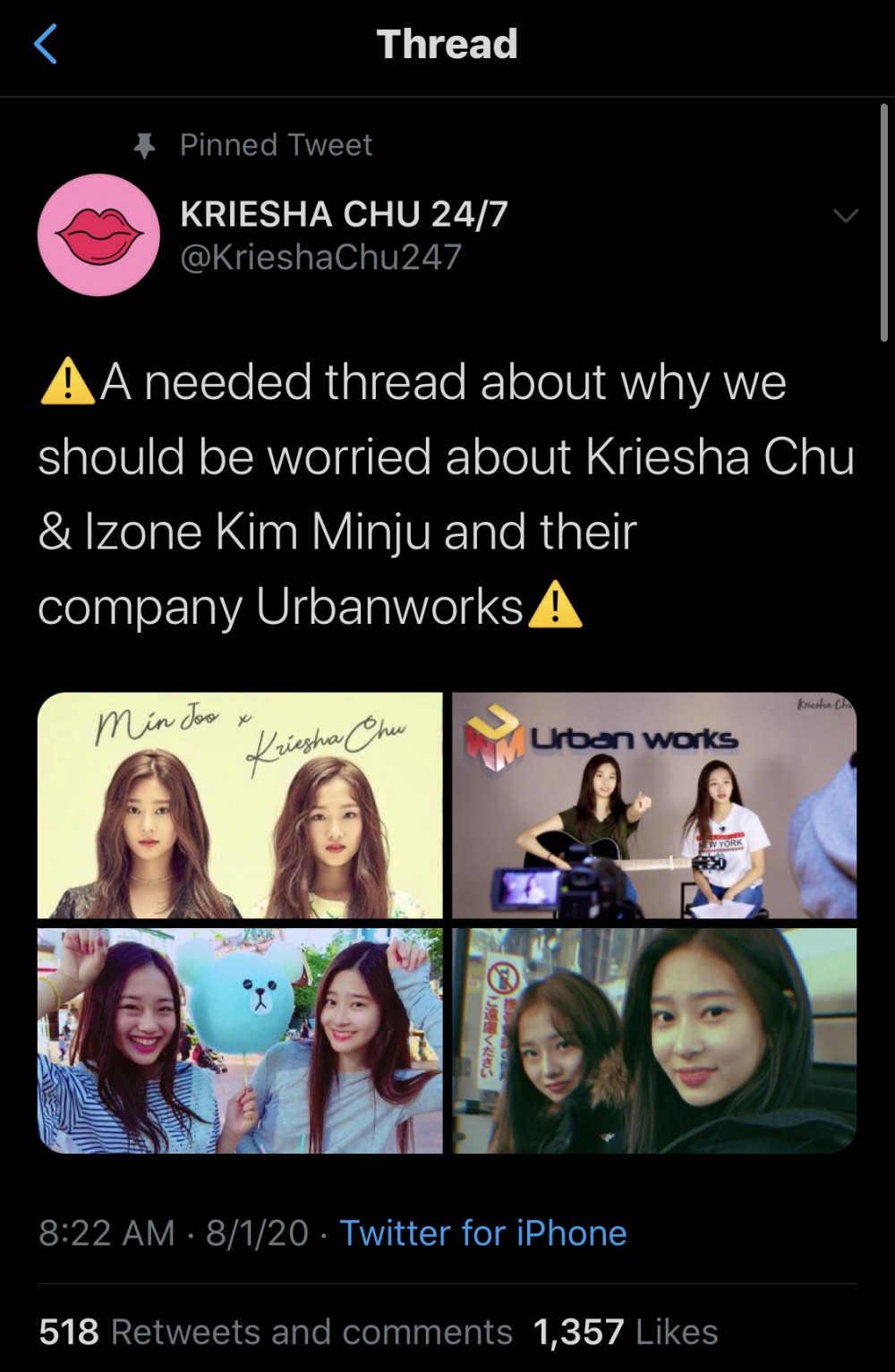 Some of these concerns are about their future with the company, the content quality, lack of Kriesha's activites and songs, lack of communication with fans, and their ability to promote.
Some of theses issues are:
"1. Urbanworks is a media company, which is why many kriesha chu & izone minju stans are concerned about how they'll handle them, especially when izone disbands. Minju stans are worried if Minju won't be able to continue as an idol and become an actress instead"
"2. Kriesha Chu hasn't made a comeback since January 2018"
"3. In January 2020, Urbanworks said that Kriesha Chu was suffering from lymphedema, but never updated fans if she ever got better or plans for 2020. Because they had mentioned she was preparing for China activites. Even with the pandemic, shouldn't they have said something?"
There are several more on this list.
Here is the tweet link:
⚠️A needed thread about why we should be worried about Kriesha Chu & Izone Kim Minju and their company Urbanworks⚠️ pic.twitter.com/QAu98rlafU

— KRIESHA CHU 24/7 (@KrieshaChu247) August 1, 2020
Fans are worried Urbanworks doesn't have plans for their artists' future and that Minju won't be able to continue activites as an idol but go in the acting direction. They are also curious and worried as to why Kriesha and Minju(who are known to be best friends since predebut trainee days) haven't been seen together or mentioned each other since 2018(when Minju became an Izone Member).
Some of the fans reactions include:
"this thread honestly hurt to read and breaks my heart but we really need to bring attention to this and help the girls out :("
"kriesha chu and kim minju im gonna get you out of that sh!t company"
"i haven't heard or seen kriesha chu in such a long time :((("
"I know it's none of my business to dictate where they should go but these girls really deserve better 😔 You know… someone like Starship would REALLY benefit from adopting Kriesha and Minju… 👀"
Korean websites are also filled with knetizens worried about these two girls and their future with Urbanworks, hoping they move to another entertainment company.
What do you think about Urbanworks and their treatment to their artists?