BTS Jin captured the hearts of Saudi Arabians during the BTS Speak Yourself World Tour in Riyadh and all it took was this breathtaking performance of his solo song "Epiphany" below:
Even before the concert started, people were swooning over his beautiful song by singing along with it outside the concert stadium word-for-word.
Saudi ARMYs and locals were completely mesmerized by his performance…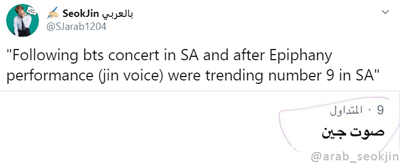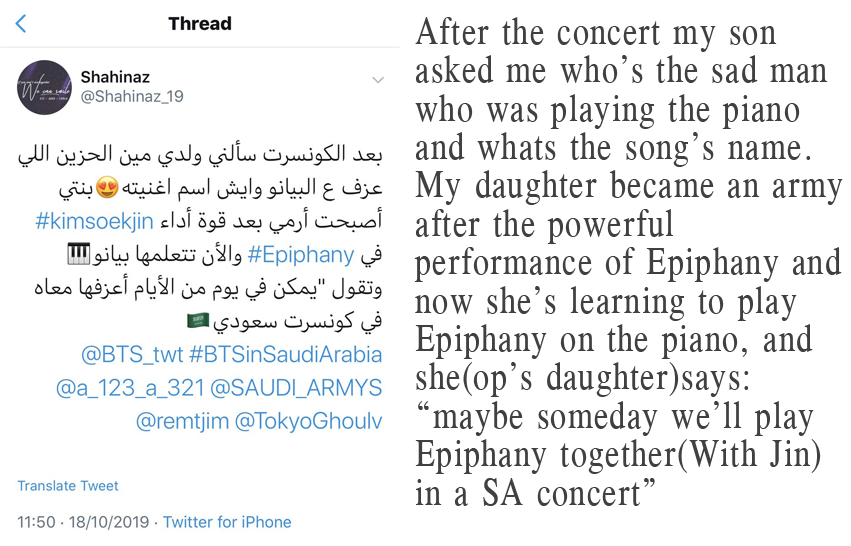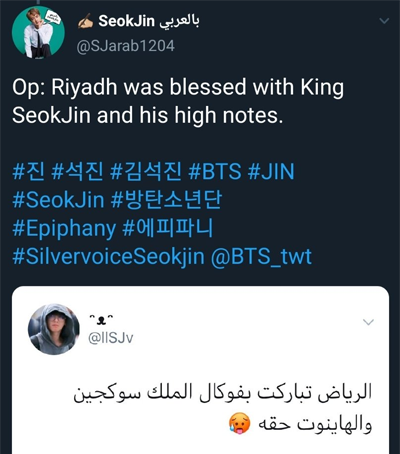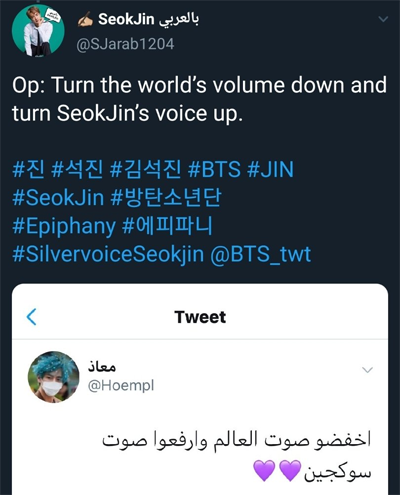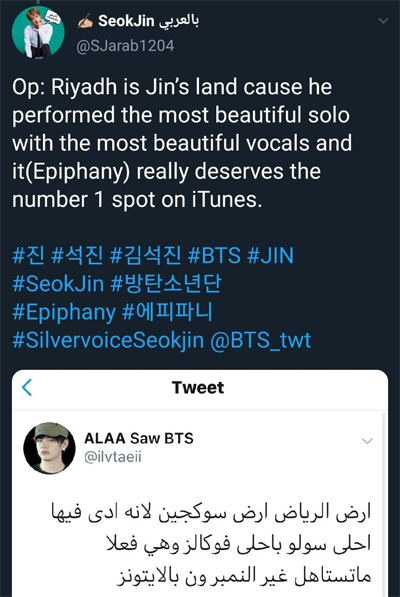 …and also had breakdowns over his out-of-this-world handsome features!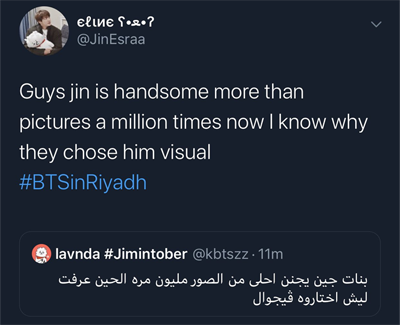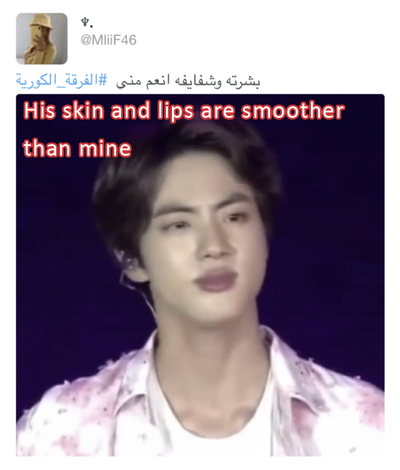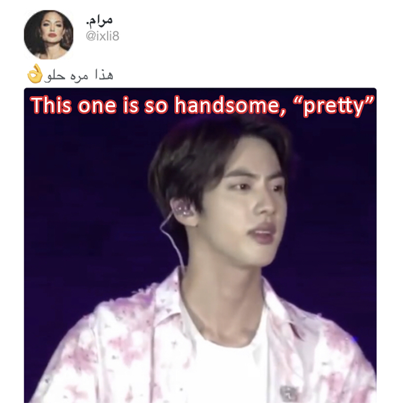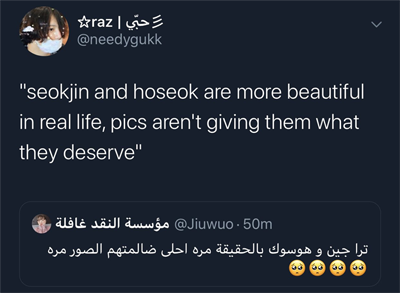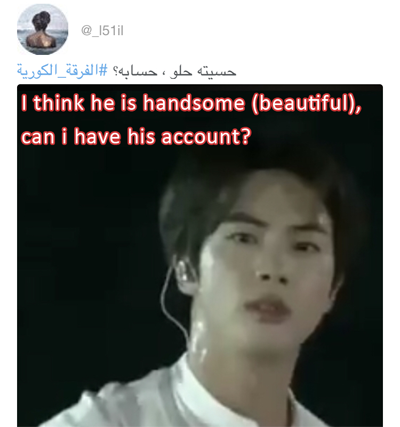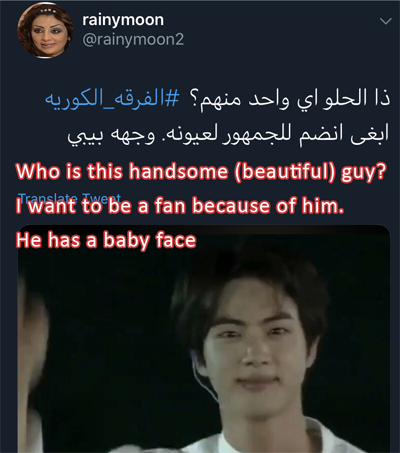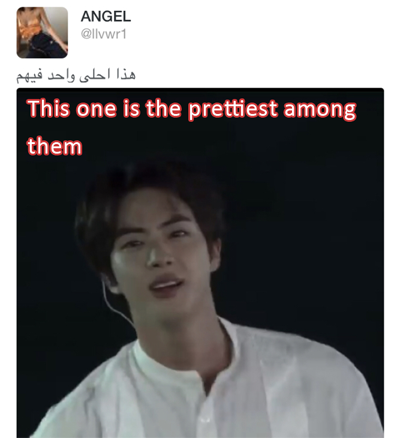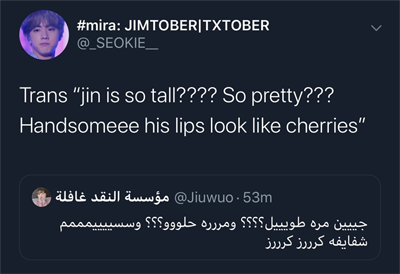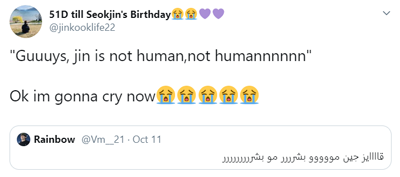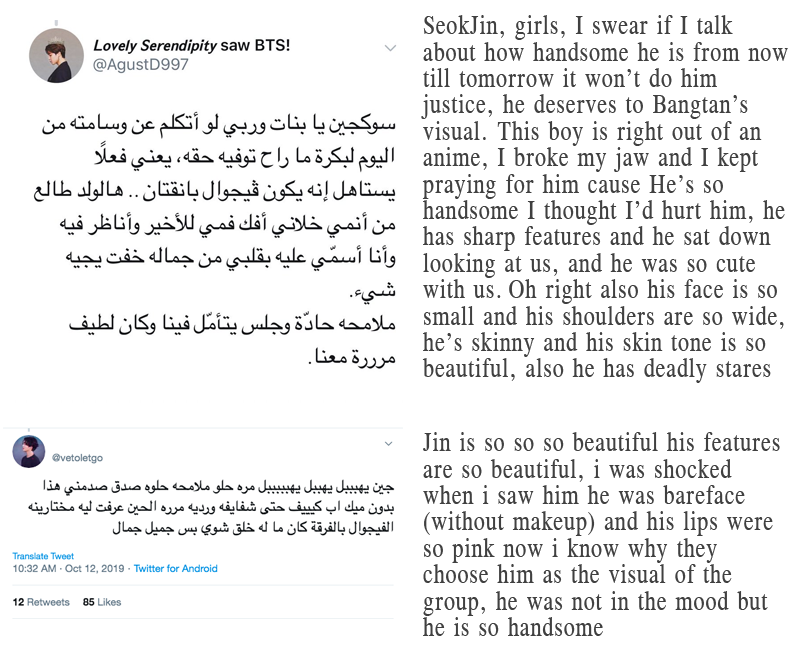 Credit: @SJArab1204
Can you blame them? This is what he looked like during the concert!
Jin's massive hit with Saudi Arabians is even backed up by academic proof! According to a survey that was conducted by the College of Computer and Information Sciences at King Saud University's Department of Information Technology, the search volumes of keywords on Snapchat (one of the most popular apps in Saudi) during the Riyadh season was collected and Jin's name came up as the most common and repeated word on October 11th, the day of the concert, and he is the only member whose name was mentioned in this study.
This study was done by Dr. Alghamdi, PhD and Dr. Alzarkan, PhD, both faculty at King Saud University.
It doesn't stop there, definitely not by a long shot! During and after the concert (and the livestream), Jin's name trended worldwide and "Epiphany" started trending in many countries.
His fans, ARMYs, had planned a special project for his stage as well, hopefully Jin felt the love that night because they sure were feeling a lot of love and admiration for him!
Following the concert, every local was curious about "The Guy With The Pink Mic" (Jin!) and it ended up trending in Saudi Arabian twitter!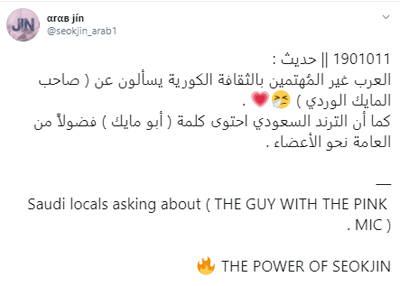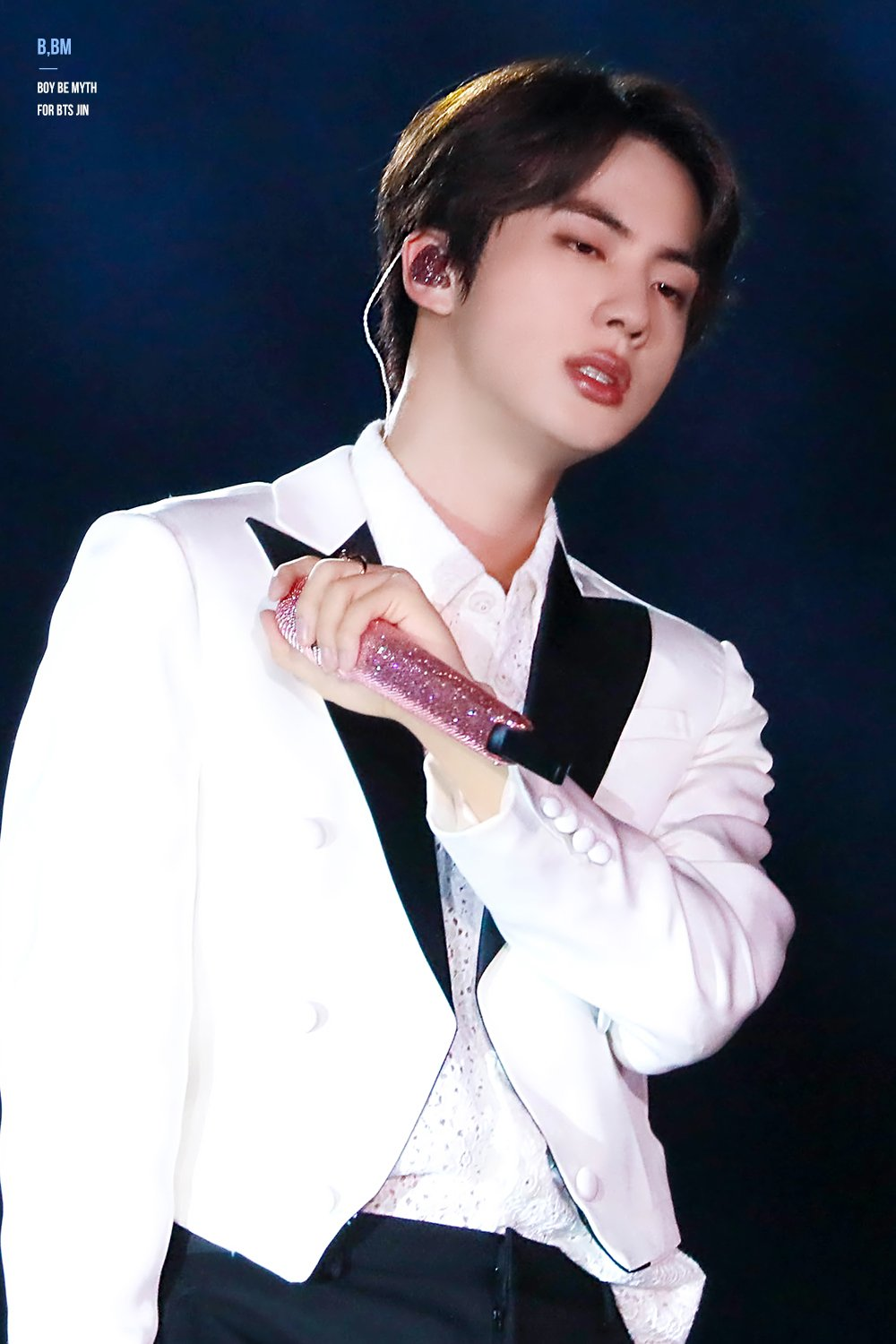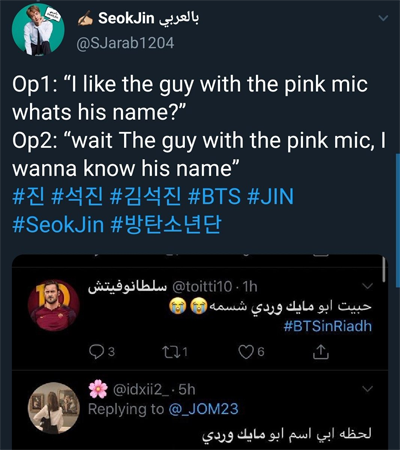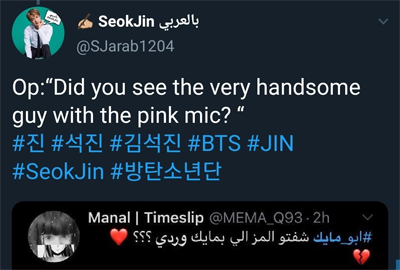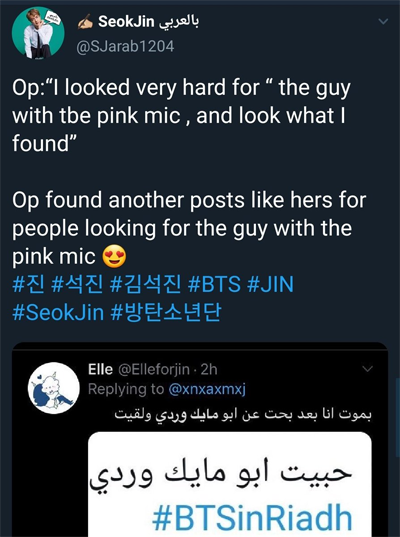 And soon after, locals started purchasing his song on iTunes.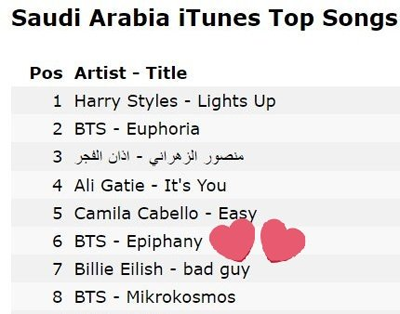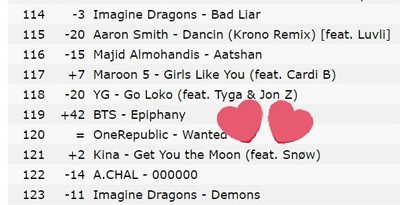 And they kept purchasing.. and purchasing.. throughout the whole week, due to the after effects of that extraordinary performance. Until they ended up charting him #1 in KPop and #1 in ALL genres on the Saudi Arabian music charts!!!
Everyone was taken-aback by his phenomenal performance and couldn't stop talking about him the whole week, both his silver voice and his deadly visuals really had everyone wrapped around his finger! He really swooped up not just ARMYs, but Saudi locals as well!
'One of the biggest moments… Jin's magnificent Epiphany performance' 'The oldest member of the group put his vocal control to the test, belting out the song and hitting every note no matter how high'
Korean ARMYs couldn't be more proud of Jin! They were so overwhelmed by the amount of love, respect, and attention he garnered with just one concert that they celebrated his achievements on twitter by trending hashtags!
Everyone was so excited and proud of Jin that they ended up trending a total of SIX hashtags in Korea and various countries for over 12 hours!! "Hashtag: Epiphany Congratulations on Number 1!"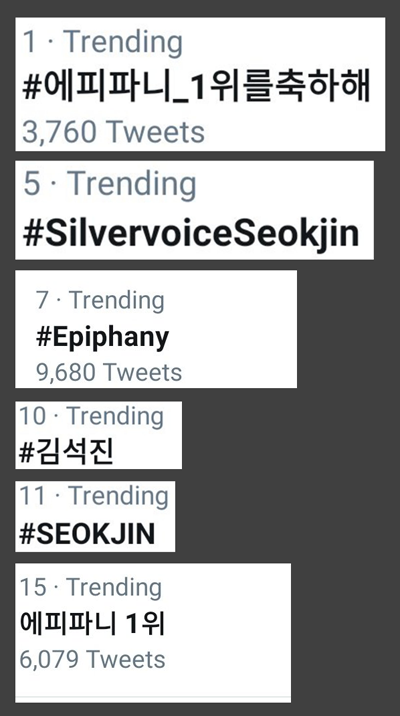 Soon after, K-Media picked up on this news and wrote an article for BTS; a nation's pride, indeed!
After all this, we surely have to call Jin the King of Saudi, no?